Imagine your favorite Internet content streaming through your Honda's audio system. With HondaLink® First Generation, you can bring the power and personalization of Aha™ to your driving experience. You'll enjoy news, weather, music, Internet radio, podcasts, audio books, Facebook, Twitter and much more—just what you want, right when you want it.
Accord Plug-In and Fit EV owners get an added feature. The HondaLink® EV app lets you view battery levels and driving range, start or stop charging, locate charging stations, even preset the interior climate.
HondaLink® Featuring Aha™ App
Experience and operate Aha Radio directly through your vehicle's audio system. HondaLink® featuring Aha™ app allows you to access a variety of internet audio content, including internet radio, news, podcasts, audio books, restaurant recommendations and more.


iPHONE CONNECTIVITY TIPS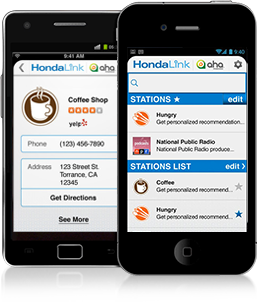 Available on the 2013-15 Accord 4D EX-L & above, 2013-2015 Accord 2D EX & above, 2014-15 Accord Hybrid EX-L & above, 2014 Accord Plug-In, 2013-15 Crosstour L4 EX-L and V6 EX & above, and 2014-15 Odyssey EX & above.
HondaLink® EV App
Interact with your Fit EV or Accord Plug-In directly from your phone or PC. This app allows you to view your current battery level and driving range, start/stop charging and climate preconditioning, and manage your vehicle's charging schedule. You can also search for charging stations or other nearby points of interest.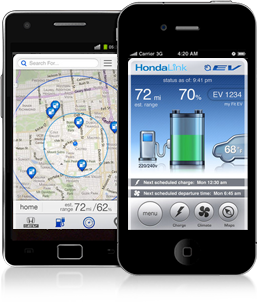 Available on the 2014 Fit EV and 2014 Accord Plug-In
Does Your Vehicle
Support HondaLink®?
Find Out.
Select any Honda to view vehicle information: